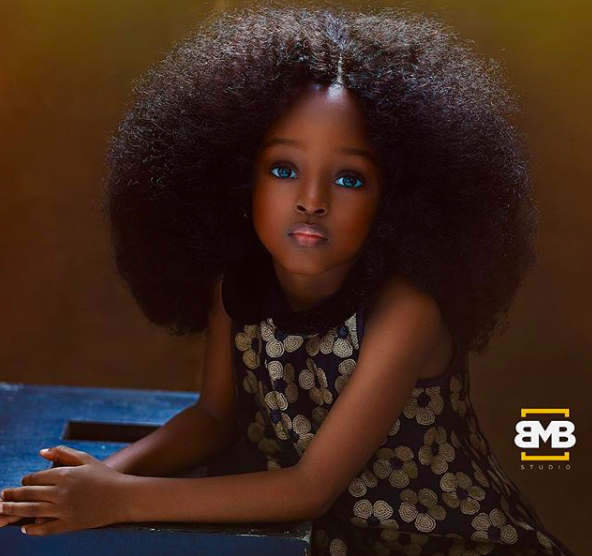 A photo of a 5-year-old Nigerian girl has hit it big on social media, racking up compliments such as "beautiful," "absolutely stunning," and "doll-like."
On Friday, photographer Mofe Bamuyiwa Instagrammed a photo of the young girl named Jare, writing, "Oh yes she's human! She's also an angel!" The lifestyle-and-wedding photographer based in Lagos, Nigeria, explained that by positioning Jare in a more mature pose, she illustrated the intersection between child and adulthood.
Twenty-thousand people reacted on Instagram, writing that the photo was a "true work of art" and that Jare is the new Barbie.
"Jare isn't a professional model," Bamuyiwai tells Yahoo Lifestyle, adding that the girl's two sisters, Jomi, 7, and Joba, 10, with their "striking features and strong characters," have also posed for photos.
Bamuyiwai says she inspired the children's mother to launch an Instagram page for her daughters called The J3 Sisters, where they already have more than 5K followers. The girls' mother did not respond to Yahoo Lifestyle's request for comment.
Bamuyiwai is surprised by the response to her photos. "All I want is for everyone to see Jare's powerful potential. … I want the photo to speak to her when she has reached her adulthood."
Jare is one of several child models to dominate social media. Seventeen-year-old French model Thylane Blondeau was branded "the most beautiful girl in the world" after her photos were published in a Vogue Paris supplement called Vogue Enfants,at the age of 6. By then she had already walked the runway for two years.
And in December, a 6-year-old Russian model named Anastasia Knyazeva was crowned by social media as Blondeau's successor.